In a survey of 250 senior supply chain and distribution managers, it was found that each average mis-pick costs a company $22, and that more than half of the companies have a mis-pick rate of less than 97%.  This adds up to an average of just under $390,000 per year. Additionally, 19% of those surveyed said they do not measure their losses from mis-picks, so the loss could be even greater.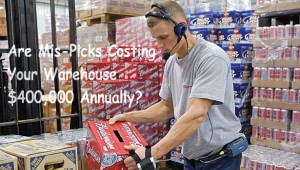 The survey of industries in retail, manufacturing, distribution, transport, chemicals, logistics, pharmaceuticals, wholesale and FMCG in the U.S., U.K., Germany and France indicated that picking is a key area where cost savings could be effortlessly reached.
Learn how using technology and following the Perfect Order Index goals can improve profitability and work performance by clicking the green button.
Keep Reading…